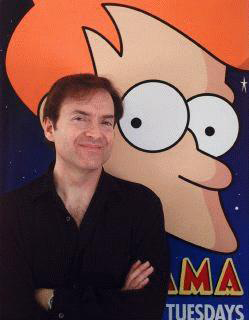 William Richard "Billy" West (born April 16, 1952) is an American voice actor. He launched his career in the early 1980s performing daily comedic routines on Boston's WBCN (TOP Rock station of the time) shortly after moving on to do the revival of Beany and Cecil and was also a castmember on Howard Stern's radio show during the early to mid 1990s.
West is best known for his voice-work on Ren & Stimpy, Doug and Futurama. West's most notable film work was in Space Jam, providing the voice of both Bugs Bunny and Elmer Fudd; he has provided the same voices for other Looney Tunes films and video games, including Histeria! (where he also voiced Chit Chatterson) and Bah, HumDuck!: A Looney Tunes Christmas. West has been very outspoken over his displeasure about the influx of movie star actors providing voice-over for films and major shows.
As well as a voice artist, West is also a guitarist and singer-songwriter with a band called Billy West and The Grief Counselors.
Roles
Community content is available under
CC-BY-SA
unless otherwise noted.