Warner Bros.' Histeria!
Abbreviation
H!
Creator(s)
Tom Ruegger
Run
1998-2001
Episodes
52
Original network
Kids' WB!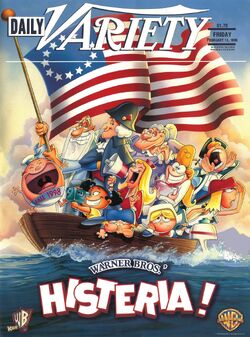 Warner Bros.' Histeria! is an edutainment cartoon of the late 1990s, created by Tom Ruegger. Unlike other similar shows by Warmer Bros. Animation, Histeria!'s purpose was not simply to entertain, but to also attempt to teach history as well, a residual effect of the network having to meet the FCC's recently implemented requirements. A regular cast of characters would visit a different period or event in history and explain the event in a humorous skit or short segment. Frequently things were made into songs, historical figures had celebrity personalities, and various segments parodied contemporary entertainment (i.e. singing a song about in a parody of the theme song).
Histeria! aired on Kids' WB! from 1998 to 2001. It was to be WB's most ambitious project since Animaniacs. Like the aforementioned, there were 65 episodes that were originally going to be made, but due to being $10 million over budget, only 52 episodes were completed before being canceled in November 1998. More recently, the show has been in reruns on In2TV (part of In2TV), first from March to July 2006, and then returning in October. In January 2009, all of the episodes were taken off the site. The complete series was released on DVD through the Warner Archive Collection on July 12, 2016.
Histeria! may have been influenced by 1978 French TV series . The French series featured the familiar series cast reappears as the contemporary figures of every historical time. Another possible influence is the 1988 miniseries This is America, Charlie Brown, which featured the cast of interspersed within various events in American history.
Histeria! has since became a cult favorite, gaining a modest fandom.
Characters
Main article: List of Histeria! characters
Episodes
Main article: Histeria! episode list
Broadcast history
USA
Canada
Connections to other WBAU shows
Community content is available under
CC-BY-SA
unless otherwise noted.