Pepper Mills is a teenage girl featured on Histeria!, voiced by Tress MacNeille. An occasional singer in the Histeria! Kid Chorus, she is a hyperactive teenager who was born in Homewood, Illinois (as mentioned in "Really Oldies But Goodies"). She is almost a polar opposite in terms of personality to co-star Charity Bazaar, driven to adoration for any and all celebrities. As a result of this, she frequently harasses historical celebrities by asking for their autographs. However, Pepper constantly gets these historical figures mixed up with pop cultural celebrities, and it's only when she looks at the autograph she's just been given that she realizes she's made a mistake.
Despite being a teenager, Pepper, along with Toast, has been shown to be a student at William Howard Taft Big Around the Middle School along with the rest of the Histeria! Kid Chorus. A presumable explanation for this is that she flunked enough classes to be held back, or the school is possibly a K-12 school.
Physical Appearance
Pepper is shown to be in the age of 16/17, with long red hair in a ponytail, and her attire is that of a 1950's school girl, with a big aqua bow on her head, a long-sleeve white turtle neck shirt, long aqua skirt and saddle shoes.
Relationships with other characters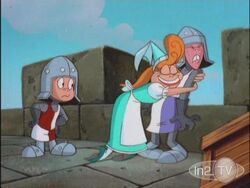 In fanfiction, she and Toast are often written as a couple. This was occasionally implied on the show, one example being that, during the Kid Chorus' performance of "That's the Story That's Told by the Bard" in "Writers of the Purple Prose", she and Toast visually portrayed Romeo and Juliet. Also, in a sketch about siege warfare in "Big Fat Baby Theatre", Loud mistakenly brings in Pepper when Toast asks for a fan; Pepper promptly hugs Toast and calls him "the dreamiest". She's also the annoucer in his show, Ask Me If I Care.
Character jingle lyrics
Hey, if you are a star or celebrity
Then I know a fan, oh man, she'll jump out of her tree
So look out! Here comes Pepper
You'd better run for the hills
She'll try any ruse 'til she gets your autograph
If you refuse it could be your epitaph
You give her the chills, she's Pepper Mills!
Pepper!
People in Pepper's running gag
Gallery
Community content is available under
CC-BY-SA
unless otherwise noted.