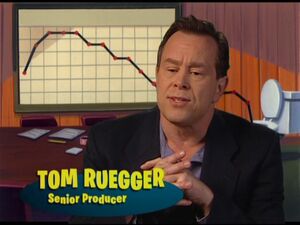 Tom Ruegger (born April 4th, 1954, in New Jersey, New Jersey) is an American animation writer, producer, and director. He was once an executive producer/creative director for Warner Brothers Animation. He started working as an animation producer for  Hanna-Barbera in 1979, and work there as a writer and producer until 1989, writing for such shows such as Scooby-Doo and Scrappy-Doo, The Snorks and Pound Puppies. Ruegger was also executive producer for A Pup Named Scooby-Doo. But he is most famous as a producer, writer, show-runner and cartoon-creator for Warner Bros. Animation from 1989-1998 working alongside Jean MacCurdy and Steven Spielberg, where his creations included Tiny Toon Adventures (along with Sherri Stoner and Paul Dini), Animaniacs, Pinky and the Brain, Histeria!, Batman: The Animated Series, Freakazoid! (for which he brought in Paul Rugg and John P. McCann as writers/producers), and Road Rovers.
Ruegger has received fourteen Emmy Awards for his work in animation.
In 2004, Ruegger started Tom Ruegger Production, a full-service animation studio. In 2006, Ruegger began developing, story-editing and serving as Executive Producer on the 40-episode animated series Animalia (2006), based on the picture book by Graeme Base. Along with Nicholas Hollander, he developed and story-edited another animated series entitled Sushi Pack (2007).
Ruegger is married to Annie Malley, and lives in the wilds near Los Angeles, California. His wife is a successful marathon runner, and he has three sons from his previous marriage to Adrienne Alexander: Nathan Ruegger (the voice of the baby version of Plucky Duck on Tiny Toon Adventures, Skippy Squirrel on Animaniacs and Froggo on Histeria!), Luke Ruegger (the voice of the Flame on Animaniacs and Big Fat Baby on Histeria!) and Cody Ruegger (the voice of the Little Blue Bird on Animaniacs and Loud Kiddington on Histeria!, the latter of whom he also served as the inspiration for). Collectively, the Ruegger boys also inspired Yakko, Wakko and Dot Warner.